Here At Ready Let we sell high yielding properties to investors in the North East of England particularly around the County Durham area.
We have personally been investing in this area for many years for a variety of reasons. In a recent article published on Zoopla, Durham was named in the top 10 highest yielding areas in the UK!
'Sunderland and County Durham both generate a 7.4% gross annual average yield, while Hartlepool has an average yield of 7.3%'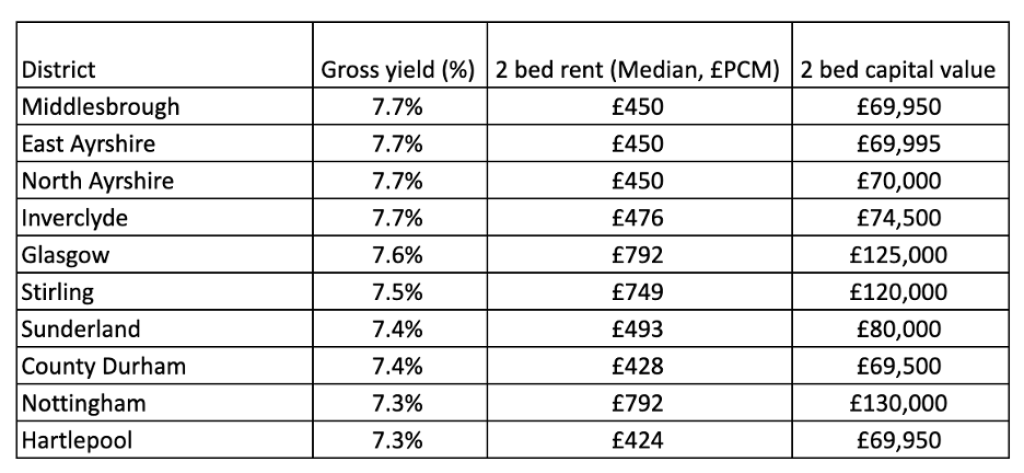 Image source - https://www.zoopla.co.uk/discover/property-news/best-buy-to-let-locations/
Our investment properties actually offer investors yields of between 9-13% which is much higher than the gross yield outlined by Zoopla in all top 10 areas of the UK.
As you can see by locations mentioned in the top 10 list this further backs up our recent blog post about why investors are moving away from southern areas like London.
The North East has a great mix of low property prices, amazing rental yields and a very high chance of rising house prices in the future due to all the new developments in and around the area.
You can find out more about why the North East is a great place to invest here. As you may be aware having a high rental yield is extremely important in ensuring your investment is profitable and stress free!
We are a preferred letting agent of County Durham and have sold over 200 properties to investors over the last few years. If you want to find out more about how we can help you invest in property with zero hassle and provide you with a high yielding property then contact us today!